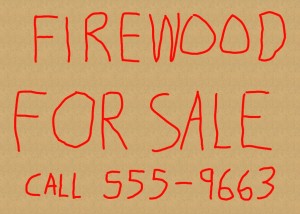 As with any business, nothing happens until something is sold. Fortunately, firewood is easy to sell since your potential customers already know they want it. You don't have to convince them that they want it. Every year they have to look for more wood to buy to replace what they have burned over the previous winter. This is the beauty of selling consumable products.
Firewood dealers don't usually use expensive media advertising like radio and television. Although you could if you wanted to. Most of the firewood I sell is through low cost or free advertising.
Road signs. If your home or business is next to a busy road, you can put out a firewood for sale sign. My grandfather used to get most of his customers that way. He was fortunate to live next to a very busy road that accessed a lot of rural homes that burned wood.
The other variation of this is to park your truck or trailer on the street with a load of wood and a for sale sign on it. I see people doing this all the time but I haven't tried it. What I don't like about this method is I can't use my truck or trailer while it is busy trying to sell wood.
Build a Website. I get most of my firewood customers from the internet. I have a website that shows up at the top of search engines when people search for firewood in my area. I would put a link to my website here but I don't want this article to be about promoting my firewood business, this is to help you promote your own.
If you know how to build websites, and more importantly, how to promote them, this can be a great option. You can hire someone to build one and promote it for you, but that can be expensive. Another option is to go to the contact tab on this website and send an email stating you would like to advertise your firewood business. This site offers some low cost and even free website and advertising options.
Sell firewood on Craigslist. Probably half or more of the customers I have received over the past few years have been from Craigslist. That site is a woodcutters dream come true. It's free and a lot of people go there searching for firewood. The downside is there can be a lot of competition. Part of my secret is to put a link to my website on my Craigslist ad. This way people can go to my site and read more about my business. The website makes it look like I am professional and trustworthy. This gives me an edge over the competition.
Sell firewood with classified newspaper ads. Before the internet, I used to sell most of my wood in the newspaper classified section. Many papers have a section for firewood. In one of our local papers it was "fuel and heating". Believe it or not, people still do read newspapers. Although this is decreasing, classified ads still work. A lot of times it's the older demographic that is more likely to read the newspaper and less likely to use the internet, and that's who a lot of my customers are.
Now I have plenty of repeat customers and new customers from my website, so it has been about 2 years since I have tried advertising in the classifieds, but it worked then. A lot of wood dealers advertise in the cheaper low circulation or weekly papers. I used to pay more for the higher circulation papers. More readers and less competition.
Word of mouth. This is always a powerful selling tool if you provide a good product, reliable service and a good experience for the customer. I have several situations where I sell wood to several people in a neighborhood. It all started with one customer.
Just a few weeks ago I got a call from someone from one town, who was taking a walk through a park in a nearby town, and saw some wood I left in one of my customer's driveway near the park a few days earlier. They really liked the loos of the wood, so they went to my customer's door and got my number from them and it ended up being a 2 cord order for me. A quality product can help a lot with word of mouth.
Business cards. Get some business cards and leave one with your customer when you deliver their wood. You can try posting them on bulletin boards around town, although I have not tried that. I mostly use them so customers can keep my number on hand so they can call me when they want more, or so they have my number when someone asks where they got the wood.
You can get business cards printed free, plus a few dollars for shipping and handling, through vistaprint. You can find them by doing a web search for "vistaprint". The only catch is they print their website on the back of the card. Not a big deal, it's in small print and most of the back is blank. I use them.
More obnoxious ways to sell firewood. If you want to try being more obnoxious you could do things like look for homes with smoke coming out of their chimneys, knock on their doors or leave a flier or business card. I have never had a need to do this so I don't know how it would work.
Keeping a customer list and calling them every year to remind them to buy wood will increase your income dramatically. I know people who do this and it works great. I don't do it, except for a few customers who request that I do. Mostly because I get enough orders as it is.
Selling wood is easy. The hardest part can be the first few years while you are building up a customer base. As you get a list of repeat customers, the less advertising you will have to do. Eventually you can get to a point where you have enough repeat customers to keep you pretty busy, then maybe do a little advertising to keep a few new ones coming in.